Semaglutide Therapy
Semaglutide Weight Loss Therapy Clinic Near Denton, TX
Semaglutide (available under brand names of Wegovy and Ozempic) is an anti-diabetic medication and is also used for long-term weight management. A GLP-1 receptor agonist, it mimics the action of the human incretin glucagon-like peptide-1 which causes the increase of insulin secretion and increases blood sugar disposal and improves glycemic control.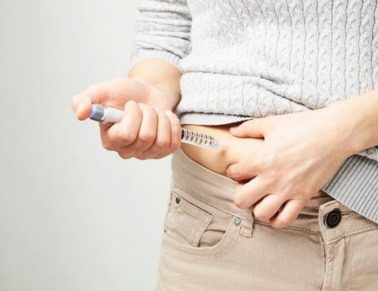 How Semaglutide for Weight Loss Works?
Semaglutide weight loss is a medication that is proven to be effective in helping patients lose weight. It works to lower high blood sugar by increasing the amount of insulin that is released, lowering the amount of glucagon released and by delaying gastric emptying. It enables individuals to combat food cravings and stick to a healthy diet by regulating their appetite, lower glucose levels and increasing the feeling of fullness.
What kind of results can I expect with Semaglutide?
If you are looking for Semaglutide weight loss near Denton, we got you covered. With Semaglutide weight loss at Denton Family Practice Clinic you can start losing weight within 6-8 weeks of medication. To avoid side effects, it takes 9 to 16 weeks to be at full dose or strength. Typically, patients reach their full dose of Semaglutide after 9 to 16 weeks and could lost approximately 1-3 pounds per week.
How often should I take Semaglutide?
Semaglutide has a long half-life of 6.8 days and is intended to be injected once every seven days. Due to the side effects, medication should only be administered every seven days according to the titration schedule provided.
Semaglutide weight loss program can be safely followed from 6-12 months. Succeeding prescription will vary depending on side effects, weight loss goals, rate of weight loss, and financial resources.
What are the common side effects?
Just like any other medication, Semaglutide has side effects that are usually harmless and pass quickly. The following are the common side effects of Semaglutide:
Swelling, redness and itching on the injection site

Tiredness

Nausea

Vomiting

Constipation

Diarrhea

Fatigue
Get emergency medical help if you have signs of an allergic reaction: hives, itching; dizziness, fast heartbeats; difficult breathing; swelling of your face, lips, tongue, or throat.
What are the more serious side effects of Semaglutide?
Tell your doctor right away if you have any serious side effects including the following:
Vision changes

Unusual mood changes

Pounding heartbeats

Lightheadedness

Signs of thyroid tumor

Pancreatitis

Gallbladder problems

Low blood sugar

Kidney problems
Who should not use Semaglutide?
We do not recommend the use of Semaglutide for people with the following conditions:
Semaglutide allergy

Endocrine neoplasia

A personal or family history of medullary thyroid carcinoma

A diabetic ketoacidosis

A stomach or intestinal disorder

Pancreatitis

Kidney disease

Retinopathy
For further details: Click here